Day 4 which was show day two of the MFTHBA Spring Show and sunrise was upon us. Ha! Way too early for me to arise. I had given Fancy, my Missouri Fox Trotter a ton of hay last night. She will not starve if I don't get there at 6:00 am. I pray that Fancy would not lay down all night. Let her be sparkle-clean. I slept on. At the magical time of 7:00 am, I was out the door. I had tried on a pair of amazing pants last night and sat down, like on a saddle. Hmmm, there was some tightness in my tummy area. A long day with a restricted tummy would not help me survive. The black pants would do.
Drippy nose and I arrived at the stall. I looked at Fancy's shiny body and saw no manure spots on her glorious body. The Lord has smiled upon me! Fancy ate her breakfast. I told Fancy that she was going to be ponied to the arena today with the truck. I groomed and saddled her. I was nearly blinded by her champagne shine. Lordy, but she is beautiful! I had taken my Allegra, the moisture was evaporating from my mouth. It was cooler and less humid today. I might live through this experience! There is more oxygen in the air for my lungs.
The first class is REINING! I love REINING. I wish I had a picture of each of my horses and I doing a Reining pattern. It's my favorite class. (You canter the entire pattern except for a few spins, rollbacks and slide stops! How I love to canter!) We practiced in the warm up arena. We had a canter, stops, a spin or two. We changed directions and did drop to trot lead changes. I saw no reason to exhaust Fancy and I with practice. We did what she had to do in the arena and it was time for me to change into the show clothes.
I tied Fancy up and went into the restroom to change into my show clothes. I walked out of the bathroom in all my show clothed glory. The crowd gasped, held their hearts, and whipped out their phones to take my picture. Their pictures went viral. I'm a fashionista Internet Star now! OK, I'm lying. I looked dressed up just like every other rider. No one gasped or took my picture. Humph!l
Fancy and I were up. We went into the arena and DESTROYED the reining pattern! They should change the numerical number name of this pattern to "Fancy and Susan"!
We were close to perfect! Our slow small circle was indeed slow. This might have been the first slow canter circle we had ever done. Had I not been riding Fancy, I would have fainted in astonishment. Our drop to trot lead changes happened in the first quarter of the circles, so the penalties were minimal. Our spins and rollbacks were technically correct. Our lead and lead changes all were correct. I was sitting on a future Reining Horse Super Star! What a time Fancy and I had in that arena! We showed the judge our bit and ecstatically left the arena with me grinning. My fellow competitors gave me compliments. Wow! I am amazed at this horse! Good Lordy, who is this horse? Fancy got a lot of rubbing. Our world of non-communication was dissolving.
The youth reining pattern class was next.  After they were done, we were all called into the arena to get our ribbons.
"In Third Place is number 767!  She's Something Fancy O ridden and owned by Susan Engle. The world changed. Fancy was a STAR! I did not faint.  My mouth opened and somewhere deep inside a scream wanted to come out.  I got the Yellow Ribbon and left the arena. I asked Fancy to canter, but she refused. She knew I needed to be in the arena longer so I could scream and wave the ribbon around.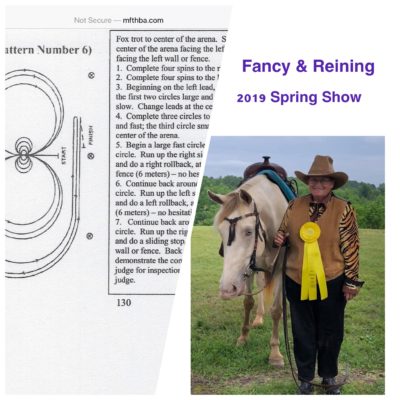 Word was passed that a major storm was approaching.  The hero versatility crew drug (smoothed) the arena and then set up the 1000 obstacle trail class.  It seemed like 1000 obstacles!  This might have been the most complicated trail pattern I've ever experienced.  The sharp mind was still alert.  I had the pattern memorized.  The rider order was announced.  I stayed in the middle.  Thank you Lord!
It was our turn.  We entered that trail class arena. We owned the trail class obstacles.  We DESTROYED the trail class pattern.  Except for one touch, Fancy stepped or fox trotted or cantered over the poles.  That is nothing for a horse in her third show with her human.  I had spent the month having nightmares about Fancy cantering over two poles about five feet apart.  We had practiced at home earlier this year and Fancy LAUNCHED herself like a rocket over those poles.  It took me half an arena to get her stopped.  This pattern called for the canter over the poles and immediately slow down into a flat foot walk.  I pictured myself trying to get Fancy slowed down by the time we jetted to the end of the arena.  But NO!  We had practiced about three times since the rocket launch, including our warm-up today. She did much better and was under speed control. All those nightmares about the rocket launch around the arena were in vain.
The obstacles cried when we were done! We crushed them! In the trail class, the obstacles are the enemy. They have no desire to see a successful horse and rider. Obstacles sit there quietly waiting for errors. Today, they lost the fight with Fancy!
While we were all waiting to ride back into the arena to get our placings, my good friend told me she once had a cowboy hat like mine.  She said, "I think I got my hat in the 70's".  What!  I now remembered where this hat had come from.  It seemed to appear in my bed room when I was deciding on my show clothes.  But now I remember buying this hat from an antique store.  You walk into an antique store and see an amazing cowboy hat.  You try it on and it fits.  You buy the hat for twenty something dollars and then forget all about it until it magically appears the day before a major horse show!.  My cowboy hat was very unique in a sophisticated vintage fashion. I had no idea.
The day stayed cool.  I was mounted on Fancy and felt much better than I did the day before.  There was more oxygen in the air.  My lungs were much happier!
The Youth Trail class was next when done the Open and Youth horse and rider pairs returned to the arena and lined up awaiting the placings to be called by hero, Vic Rowden.
Holy Moly!  Fancy and I were called at third place. Third place out of these competitors is amazing!  Fancy indeed did wondrous.  I screamed for real and tried to canter out.  Fancy held me back to a fox trot.  She knew I needed to stay longer for effective screaming and waving that yellow ribbon to the screaming fans!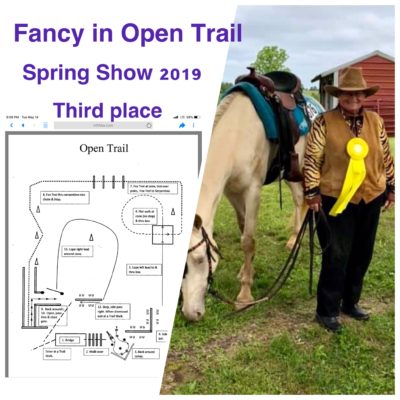 The word passed that a big thunderstorm was predicted for our show grounds.  The show staff was alerted and every thing that could be done to speed up our classes was done.  The weather was great for me.  It was cool and I still could breathe.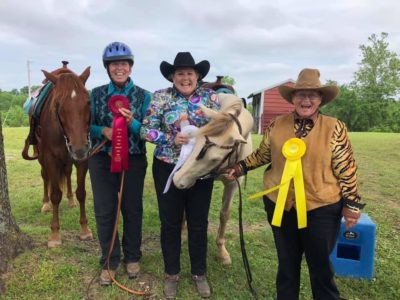 The MFTHBA versatility staff spun into action and got ready for the three speed events.  First class is the barrel race.  Fancy and I have never run a barrel pattern.  Someone else explained they were going to compete in a Barrel Pleasure class.  Exactly!
Fancy and I came into the arena, owning the Barrel Pleasure race.  Bang, we were off.  We did canter.  We did zip around the barrels.  Our 100 mph trip from the third barrel to home was somewhat less than 100 mph.  My goal is to get the highest time.
Darn, we succeeded!  When Fancy stopped, the gate keeper came out and helped me calm down a very unexcited Fancy who was standing still.  I bent the brim of my hat back and put on my expression of speed horror.  "Whoa Fancy!  Whoa Fancy!"  Someone has to entertain the crowd! (Fancy snorted in disgust.)
Next was the pole bending race.  Fancy and I have never run a pole pattern.  Zoom, we were in the arena and cantered to the far end of the poles.  We turned and weaved through the poles at a varied, non-canter gait.  Yippee!  We did not knock over any poles.  We made it to the far end and did our pole bending pleasure cantering back to the line.  Again, we got the longest time.  Beat that you pleasure pole benders!
Next is a weird little pattern called the Stake Race.  It's a figure eight around two barrels.  Fancy and I lost a little of our reputation in this class.  We did not place slowest.  We actually were faster than a couple of other competitors!  My ribbon was pink instead of brown!
And we were done.  The show was over for Fancy and I.  I was still alive and feeling good, with some muscle stiffness.  I spent a long day in the saddle, a lot of it not moving. (Moving is much better than sitting for long periods of time.) Fancy was extremely happy to discover the show was over.  We didn't wait long and the champion and reserve champion versatility open and youth winners were announced.  I'm certain you will be shocked to learn it wasn't me!  I'd say two more years and we will be supremely competitive.  Hopefully, my brain will stay intact and pattern memorization will still be possible!
I drove the truck back to the stall with the young wonder horse right at my window.  I began an attitude of "Fancy Worship".  What an incredible horse.  I have made stunning progress with Fancy.  I am thrilled at our progress.
Fancy got all the hay she could eat.  Her stall floor was made perfectly free of manure.  She got a full bucket of water.  I left to take a nap in my wondrous motel room.  I came back later when the evening show started and so far, no rain.  Everyone was very pleased that the show was going on without being drenched.  YAY!
I filled up Fancy's water bucket and told her special how she is.  Of course she knows that.  I gave her more grain.  I erased the manure from her stall.  I tucked her in and left for my wondrous motel room, thank the Lord!
Friday morning, I got up early enough to get Fancy fed.  I had decided to pay to have the stall cleaned by the 4H kids.  That would save me some energy.  The day would get hot and I needed all my energy to put everything back in the equipment stall and trailer.  I got the trailer hitched up without any trouble.  Sometimes it takes me a frustrating 15 minutes to get the truck and trailer lined up.  Today was a hitching miracle.  I got the trailer ready for her highness to enter.  Her highness eagerly went into the trailer where her trailer bribe feed and hay bale were awaiting.  Her Highness Fancy left the grounds.  We drove all the way back to home without any trouble.  Fancy's tired body stepped out of the trailer at her favorite home.  I watched as she rolled in the dirt and ran to her mare herd.  I took my body into the house and collapsed into the bed.  My nose stopped running as soon as I hit the mattress and I was unconscious!

Spring #1 Boyfriend Announcement. Three tied for the honor
#1 Hero Boyfriend- Darrel Martin. Darrel picked up and dumped my manure tubs. When oxygen is running short and you wonder when you will pass out, Darrel comes and saves my oxygen. I wondered when I would pass out. Darrel saved my life. Thank you Darrel
#1 Senior Announcer – Vic Rowden. No way did I ever imagine Vic would join the #1 esteemed winners. Vic your sense of humor is highly honed and brought great comedic attention to myself. You are a talented announcer who cares about getting it right. That extra attention thrown my way, makes you a #1!
#1 Sainted Snotty Judge's Helper, Andy Odor. My extreme embarrassment and concern when my blue 5 gallon mucous work cloth fell into the arena was picked up on a stick and waved around so when Judge Vic asked "WHO DID THAT Belong To?", attention was heaped on my shoulders…(and I loved it). Thanks Andrew!
– Susan Engle –
Susan is an accomplished author.  Want to order her books off of Amazon?  Go to https://www.amazon.com/Susan-Engle/e/B009H9RDGO%3Fref=dbs_a_mng_rwt_scns_share