On day 3 of the MFTHBA Spring Show I awoke in fine shape from the wondrous bed and air conditioned room.  This was show day! Coffee and yogurt from motel breakfast was going to take me all the way with the addition of a Cliff bar.  I was in great shape.  I snuffled down a dose of anti snot pills and off I went.
I pulled up to the stall and discovered a very clean Fancy.  She had not laid down.  Oh how fun this was going to be.  Morning bath unnecessary, just a grooming session!  Her mane and tail looked like fairy dust, floating along.  How beautiful can one horse get?  Fancy is the standard for beauty.  "She's Something Special O." is her name for a reason!  My show shirt, vest, leopard boots, leopard hat and tan pants were in the truck.  Stupidly, I drove the truck up to the arena and parked it in the shade.  Oh you stupid human.  Once again, I walked down the steep hills to the barn.  Mucous ignition light turned on and my blue work rag was engaged in the every two-minute-nose-mucous wipe.  The wonderful mucous-deletion medication was not working on my nose. It was working in my mouth. It dried out my mouth and tongue. I could barely move my tongue around in my mouth. Of course the water bottles were in the truck.
I got back to the stall and got the pretty girl out.  I got the saddle on, did some warm-up and saddle cinch tightening until both the saddle and Fancy were ready to ride.  Again, I mounted from the trailer fender.  My million-dollar horse was calm.  We were on our way to the arena.  The show started on time thanks to an amazing Versatility crew.  We had the National Anthem with our flag carrier.  The first set of classes were Youth / Open Showmanship and Youth / Open two gait Western Pleasure.  I tied Fancy to the warm-up arena fence and went into the restroom to get on my show clothes. I inhaled a bottle of water. I put a couple of bottles on the hood where I could reach them from the saddle.
Fancy and I went through the DQP (designated Quality Person) who watched her legs for any sign of limping while walking a small figure eight and felt each front leg for soring.  We passed!
We practiced cantering and our gaits in the warm up arena.  I didn't want her to get tired, but needed her commitment to the three gaits.  Lordy cheer, she was doing great for me!
I made one last run into the restroom. I got the water bottles moved to the DQP shed. Once your horse goes through the DQP, the horse must stay in the designated area, or have to go through the procedure again. I  mounted and we were ready for Open Western Pleasure.  The rain and the months and months of prior rain made part of the arena into a big mud pit that couldn't be fixed with the dragging.  I might have been somewhat neglectful at accustoming Fancy to water puddles and mud.  Mud was waiting for us. There was a big enough path to ride around the pit, if the rider used their brain to plan ahead!
We entered the arena following our half brother, Louie.  Fancy kept up with Louie and did great.  Her fox trot is still too fast and bumpy.  I was thrilled at Fancy's gait, but cursed the uncomfortable bump.  In the words of fox trotter, we are square which means closer to the trot gait than wanted. The fox trot is a four beat broken gait where their back legs slide under and make riding a smooth experience. The trot is a two beat gait with suspension.  I hate suspension, which makes my glorious sexy body parts bump up and down.
"CANTER". The judge called for a canter and Fancy sailed into a canter.  Oh My!  This was glorious.  She was as slow as most of the other horses.  We didn't speed by other horses like a racecar.  I'm in heaven.  There was one slight rider brain-loss instant when cantering to the right.  I decide that I'm getting jammed up in horses and took a short cut across the short end of the arena.  Oh holy hell.  We are cantering through the mud pit. This is beyond Fancy's pay grade and we break gait.  Changing gaits is not something you want the to judge to see.  Miraculously, the judge might have been looking elsewhere at the time.  We made it to dry ground and back into the canter.
Fancy did "Damned Great" in Western Pleasure.  She did about 100 times better than I expected!  We did better than we have ever done in our home arena.  I'm used to her speeding up, not being relaxed and not at an acceptable slower speed, especially going down the long way of the arena.  I'm doing something right in Ava!  We lined up.  Every horse was asked to back and do a 360 turn.  I had to ask the judge what she said and then ask which way to turn after we backed out of the line up.  Good Lord.  My brain is missing, I might be nervous or I might need a hearing aid.
I was sad that there were more than ten horses in this class.  Winning a ribbon in Western Pleasure would have been thrilling.  The placing was called.  The happy riders got their ribbon.  Suddenly, my number, Fancy's name and my name were called.  Fall on your knees!  Fancy and I placed 5th!  FIFTH!  I screamed and got my ribbon.  Erin Patterson was outside the arena and told me Fancy and I were in the top five!  My mouth opened and no words came out!  Then I learned that all my Kansas City people, all students of Erin, were in the top five.  Good Lord.  I still have trouble believing it happened.
The next class is Open Western Horsemanship, a pattern class.  I listened to the order of riders and I was nicely in the middle of twelve riders.  Whew!  One hates to go first in a pattern class.  I had the pattern down cold in my brain.  I still had a brain, which was shocking.
I was laser focused on the pattern.  Again, I was in the middle of the pack, not first and not last.  I love the middle.   The pattern called for a flat foot walk, Fox trot, 360 turn, canter, lead change and canter going the opposite direction.  We did our drop to trot lead change and I had a moment of wonderment.  Our second canter went through the mud.  OH NO!  We came to a screeching break gait again.  I might have made a slight sound of dismay.  We quickly got out of the mud and started the canter up again.
I was so impressed with Fancy.  We finished and left the arena.  This is a long class.  After everyone did the pattern, we all fox trotted back into the arena and did all the gaits one way.  We did the trail walk, the flat foot walk, the fox trot and the canter.  Good golly!  Fancy did great again.  We lined up and I noticed a patch of blue something on the ground, very near the exit to the announcer stand.  Oh no!  It's my mucous rag.  My big wet blue rag was laying on the ground in plain sight, where horses would step, where the judge might step.  Scream.  I called Andy, the handsome young judge assistant over.  I pointed to the blue horror and told him not to touch it.  He realized what it was.  He got a stick and picked up the blue mucous rag. Andy raised the stick and WAVED my snot rag up high! The handsome young announcer asked who owned that "thing".  Oh gawd.  My hand shot up into the air and my chin dropped into my chest. Everyone knew.  Vic announced to the world my name.  I am always secretly was thrilled to be the object of attention, even mucous attention.
I'll be forever famous for being snotty!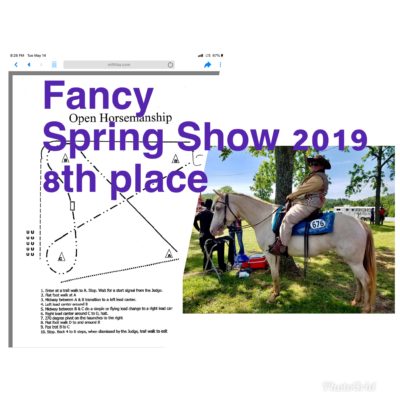 The placing was called and Fancy and I got eighth.  Oh my!  Again, we did wondrous!  The breaking gait in the mud lost us judging points.  Who cares!  Fancy did amazing and we were done.  Wednesday show day was over.  I had two wonderful ribbons.  Fancy is the best horse in the world!
The next amazing feature of the day is leading Fancy down the steep short hills.  I drove the truck.  I had the lead rope in my hand and the window open.  Fancy did wonderful!  I am so proud of this fabulous, multi-talented filly!  She is my filly.  I am her filly! Fillies Unite!
I took off her saddle and brushed her.  There was a small spot of sweat, which I brushed away. Fancy ate grass at the trailer while I got her stall ready.  My energy disappeared.  I had felt great while I was mounted on Fancy.  The air had enough oxygen while Fancy did all the work.
I got everything ready for Fancy before my body collapsed.  I managed to get into the truck.  I managed to drive to the motel.  I thought about my plan to leave on Thursday after the show, which had five classes.  I planned to pack up the trailer and leave then.  However, since I'm near death after two Wednesday classes, I don't think that idea is sane.  Not only could I not pack up the trailer without oxygen, there would be the three to four hour impossible drive home.
I staggered into the motel and my best friend was there.  I asked her if there was a room on Thursday.  I told her I was sick and needed the room.  Magically, my best friend told me there was a room available.  I would have to change rooms.  All I had to do is pack up and leave my stuff in the room.  The cleaning staff would move me.  If I had any energy left in me, I would have leaped over the counter and hugged her.  I stripped, showered and fell unconscious.
I napped for several hours.  I got up and made it back to the show grounds.  I parked and made my way to the wonderful food truck that sells cashew chicken tacos.  Oh this is heaven.  Chas' parents were sitting nearby.  I had a chair and a place to eat my cashew chicken taco.
I was alive!  Chas and I sat there and chatted.  Life was great!  I watched a couple of classes and was wondrously happy.
I drove to Fancy's stall. She was just about to run out of hay. There were some little brown mounds in back of the stall. Fancy is very adamant about not messing up her living quarters. She tries to place the brown stuff in the same place. I am so grateful for this. It makes cleaning her stall so much easier whe. The brown round things are piled in one place!
My energy was giving out again.  Oxygen left my lungs. Darrel, my hero, came over and picked up the manure tub.  He carried the tub to the manure dump.  OMG.  He saved my life again!  He then fixed the fan which made it more suitable to blow air into the stall.  Fancy was set.  I was still alive.
When I came back to the motel, my best friend looked up and told me the great news. A room had cancelled! I would not have to change rooms.
Show day was a great success. I fell into wondrous sleep!-
-Susan Engle-
Susan is an accomplished author.  Want to order her books off of Amazon?  Go to https://www.amazon.com/Susan-Engle/e/B009H9RDGO%3Fref=dbs_a_mng_rwt_scns_share